Materials
Materials for VX: SAMURAI - 侍
Create an historical Japanese adventure RPG! Tons of new castles, demons and other fantastic graphics are at your fingertips!
RPG Maker VX introduces the newest addition to the RPG Maker series, a collection of high quality graphics, animations, and maps, optimized for RPG Maker VX.
We're introducing a wide new selection of graphics including maps of Japanese castles, civil war military commanders and supernatural monsters, along with Shinto priests and samurai. Compatible with the full version of RPG Maker VX, these new graphics will add an authentic Japanese flavour to the worlds available in RPG Maker VX.

The most attractive features of this new graphic material are the additional monsters. We've replaced the standard slime and dragon monsters with civil war military commanders, ninjas, demons and head spinning ghosts to provide you with a set of authentically Japanese characters.

There are over 200 new maps, monsters, main characters and face graphics to choose from in this new collection. Everything you need to create an authentic historical Japanese adventure is ready for you. This addition is perfect for those of you who already own a copy of RPG Maker and want to do more with additional themes and graphics.
※ Buying this material collection on its own will not allow you to create games. You will need the full version of one of the RPG Maker series.

※This material collection has been optimized for use with RPG Maker VX. If you are using a different version of RPG Maker, additional effort may be required to achieve the same results.
Characters (Animation Objects)
Face Graphics
Tile Sets
Enemy Characters
Icons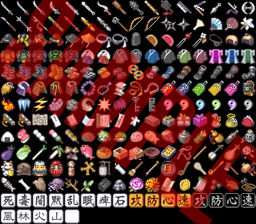 Windows Skins
Battle Animations
Minimum System Requirements
Recommended System Requirements
OS
Microsoft® Windows® XP/2000
64-bit OS is NOT supported.
Microsoft® Windows® XP/Vista/7
64-bit OS is NOT supported.
HDD
At least 80 MB of available hard disk space
-
Software Requirements
RPG Maker VX, RPG Maker XP, IG Maker*
RPG Maker VX
Please note that RPG Maker VX has it's own set of system requirements.
*Some modifications may be neccessary for use with RPG Maker XP and IG Maker.