Kenji Sugiuchi
Job(s):
Producer At Enterbrain
About:
I have been developing software in the MAKER series for the last 25 years. RPG Maker started in Japan in 1992, and in the world in 2000 (on PSX at the time). At first I was worried whether this kind of game developing tool for the public would be accepted. Now I'm happy that many game designers are making games with RPG MAKER and that I have met many people through the good of it. From now on I would like to make even more tools to stimulate your imaginations.
Thank you.
Kenji Shigetoshi
Job(s):
Director Of PC Versions Of RPG Maker
About:
As you all know, Enterbrain is the company who makes RPG Maker (or RPGツクール as we call it in Japan). 20 years ago, I started making games using "RPGツクール Dante98". From there on I would spend endless hours making games with the different RPG Makers, and participated in numerous contests with those. And then one day, I was contacted by Enterbrain, asking me if I would like to be part of the Dev team of RPG Maker. This is how I started my 13 years of involvment in the development of the whole RPG Maker series. I am the director of the Windows version of RPG Maker. As such I sometimes add in a few graphics I make, or create sample games (for instance, Knight-Blade in RPG Maker XP). However I am pretty bad with scripts and make do with the stock ones usually. The pleasure I get from seeing characters I write come to life and move around on the screen has never faded in 20 years, and sharing this with all kids and adults around the world is why I keep going!
My picture is an illustration made of me based on my hairstyle in the PV of "RPG Maker DS".
Many thanks monta! San.
Nick Palmer
Forums:
Job(s):
Forum Lead Admin, Tech Support Lead, Social Network Manager, Blog Writer
About:
I've been on and off making things with RPG Maker for at least 15 years, starting with Super Dante RPG Tsukuru II for the SNES. In 2008, I started hanging out in fan forums and eventually ended up running one of the largest RPG Maker fan forums on the web. After that, I started working for the RPG Maker Web team helping handle our Social Networking accounts and the blog. After that, I helped found the official forums and took my spot as head admin there. Since then, I've ended up with my hands in a little bit of everything we do, and I enjoy every bit of it.
Outside of RPG Maker, I'm a husband and father of two kids and spend most of my spare time neck deep in one geeky hobby after another, from collecting Nerf Guns, to Tabletop RPGs, to Comic books.
Lunarea
Forums:
Job(s):
Art director, Forum Administrator, Member+ Lead and Organizer, Artist, Writer and more
About:
I've been using RPG Maker for nearly a decade, now, and it's still one of my very favorite pieces of software. Art's always been a hobby of mine and I am excited to be able to share my art with others. I am predominantly a tileset artist, though I've explored other forms of art as well. I've created several resource packs that are for sale at the store, and I'm working on quite a few more. When I'm not in art mode, I spend quite a lot of time working on my game or reading the many books I own.
Toodles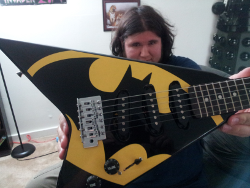 Kain Vinosec
Forums:
Job(s):
About:
Composer, IG Maker Forum Moderator, IG Maker Tutorials, RPG Maker DC, Tech Support, Web Design, Writer
I'm a big fan of RPG Maker and have been for a long time, though IG Maker is the program that really caught my attention. I've spent a lot of time with it and when RPG Maker Web was looking for someone to write up some tutorials I jumped at the chance. Since then I've released some music packs, done some web design, and I even have the chance to help people out that need it via Tech Support. It's a blast being part of all of this, and be looking forward to RPG Maker DC!
Archeia
Forums:
Website:
Job(s):
Web Staff, Product Creation, Tech Support, Blog Writer
About:
I am an aspiring game developer since I was 13 and after failing with game engines due to complexities, I finally encountered the one program that changed my life, RPG Maker. In the forums, I'm usually found in Game Dev boards, specifically General Discussion, and running a small event called, the Game Making Drive. A collaborative effort to help people bring up a schedule and discipline ourselves to finish the great task of completing a game. It's been awesome working with RMW Staff and I hope that there are more great things to come!
I'm a huge JRPG and Visual Novel fan. I'm also very geeky in a way that I can talk about Tabletop RPGs and Battle theories with someone all day.
Mitchell
Forums:
Website:
Job(s):
Little bit of everything.
About:
I first got introduced to RPG Maker a year or two ago through work. Since then I've had the opportunity to work with some of the most interesting and creative people I've ever met. I think RPG Maker is a great tool and I really enjoy helping new people find and discover it. I'm routinely amazed by how strong and supportive the RM community is and the quality of resources and projects coming out of them. When I'm not puttering around online, I enjoy soccer, snowboarding, and tomato ramen.
Tyler Ferguson
Forums:
Job(s):
Tech Support, Product Testing/Feedback, RMN Liason, Misc. tasks
About:
I've been involved with RPG Maker for more than five years, and in that time I've met a lot of great people and played a lot of games that show a lot of creativity and promise. The RPG Maker community is truly awesome, and I am honored to be a part of it. Over the last few years, I've worked closely with Archeia on numerous game projects as well as helping her sample products such as DS, DS+, and more. I also handle submissions and other duties on RMN. Offline, I'm an assistant team lead at a retail store. Music and video games are my passions. I also have a soft spot for anything related to business, world history, and science.
Take care!
End-User License Agreements
Click the button below to view our End-User License Agreements page.
You can also download the EULAs from this page directly using the links below.